USCIS Announces EB-5 Interactive Series to Begin on

Feb. 26th
This week, U.S. Citizenship and Immigration Services (USCIS) announced that it will hold the first EB-5 Stakeholder engagement of a new information series titled "EB-5 Interactive" on
February 26th from 1 to 2:15 p.m. (EST)
with a look at Requests for Evidence on Lawful Source of Funds for Investment.
View PDF of invitation here.
To register for this session, please follow the steps below:
Visit the registration page to confirm your participation
Enter your email address and select "Submit"
Select "Subscriber Preferences"
Select the "Event Registration" tab
Provide your full name and organization
Complete the questions and select "Submit"
Once USCIS has processed your registration, you will receive a confirmation email with instructions on how to participate in this session. If you have any questions about participating, or if you do not receive a confirmation email within two business days, please email  
Public.Engagement@uscis.dhs.gov
.
Why This Is Important
Any assets acquired directly or indirectly by unlawful means, such as criminal activity, will not be considered capital pursuant to the Immigration and Nationality Act section 203(b)(5) and Title 8 of the Code of Federal Regulations (8 CFR) section 204.6(e). Additionally, per 8 CFR section 204.6(j) and Matter of Ho, 22 I&N Dec. 206 (Assoc. Comm'r 1998), a petition must demonstrate by a preponderance of the evidence that the petitioner's capital was his or her own and was obtained through lawful means.
Who Should Participate
USCIS Releases FY-2015 Q1 Data for I-526 and I-829 Petitions Received, Approved, Denied and Pending 
This week, USCIS released the FY-2015 first quarter (
Oct. 1 – December 31
) adjudication data of I-526 and I-829 petitions as well as updated processing times. This data, in comparison to FY-2014 data, is rather compelling.
As of
December 31st
, processing times for I-526 petitions climbed to 14 months (13.8 months as of 11/30/14), there is a 11.4 month lag of I-829 processing (10.5 months as of 11/30/14) and I-924 applications are taking 11.1 months to adjudicate on average (compared to 10.3 months at the end of November).
For I-526 Petitions, there were a total of 2,941 receipts, 1,652 approvals, 133 denials and 13,526 petitions pending. Compared to first quarter of 2014, this represents a 37% increase in receipts, 14% increase in approvals, 84% decrease in denials and 46% increase in pending petitions. Of particular note is the total petitions pending represents over $6.7 billion that is waiting to be deployed into the U.S. economy.
Click above to view I-526 data report (2015- Q1) on Basecamp
For I-829 Petitions, first quarter totals for 2015 resulted in 810 receipts, 69 approvals, 0 denials and 3,080 petitions pending. Compared to first quarter of 2014, this represents a 119% increase in receipts, 57% decrease in approvals and 48% increase in pending petitions.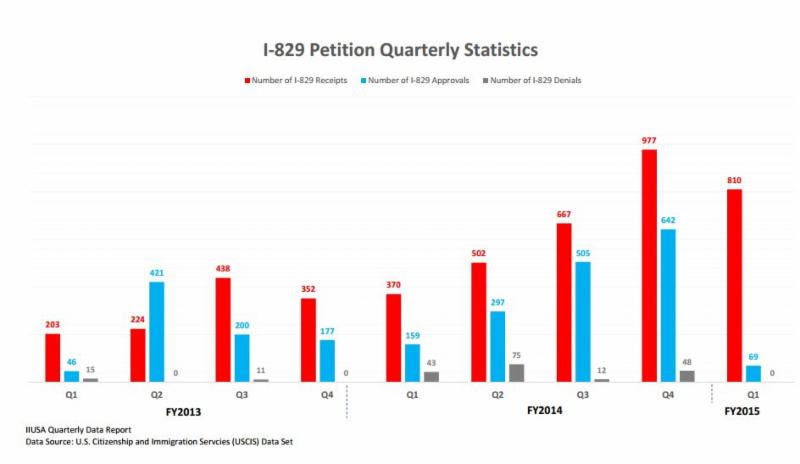 Click above to view I-829 data report (2015- Q1) on Basecamp

USCIS Updates Regional Center Webpage with New Language Pointing Visitors to Joint SEC/USCIS Investor Alert and Investor.gov
USCIS recently updated the
Immigrant Investor Regional Center
webpage to include language and links for potential investors. It states:
This page does not represent a legal notice or investment advice of any kind. Potential investors should always do their own research and consult with a financial professional before making any investment decision. USCIS has issued a joint advisory with the U.S. Securities and Exchange Commission (SEC), Investor Alert: Investment Scams Exploit Immigrant Investor Program. The SEC offers free investor education materials. For more information, visit Investor.gov.

Last month, USCIS added a new webpage listing all terminated Regional Centers, their termination date and state(s) served.